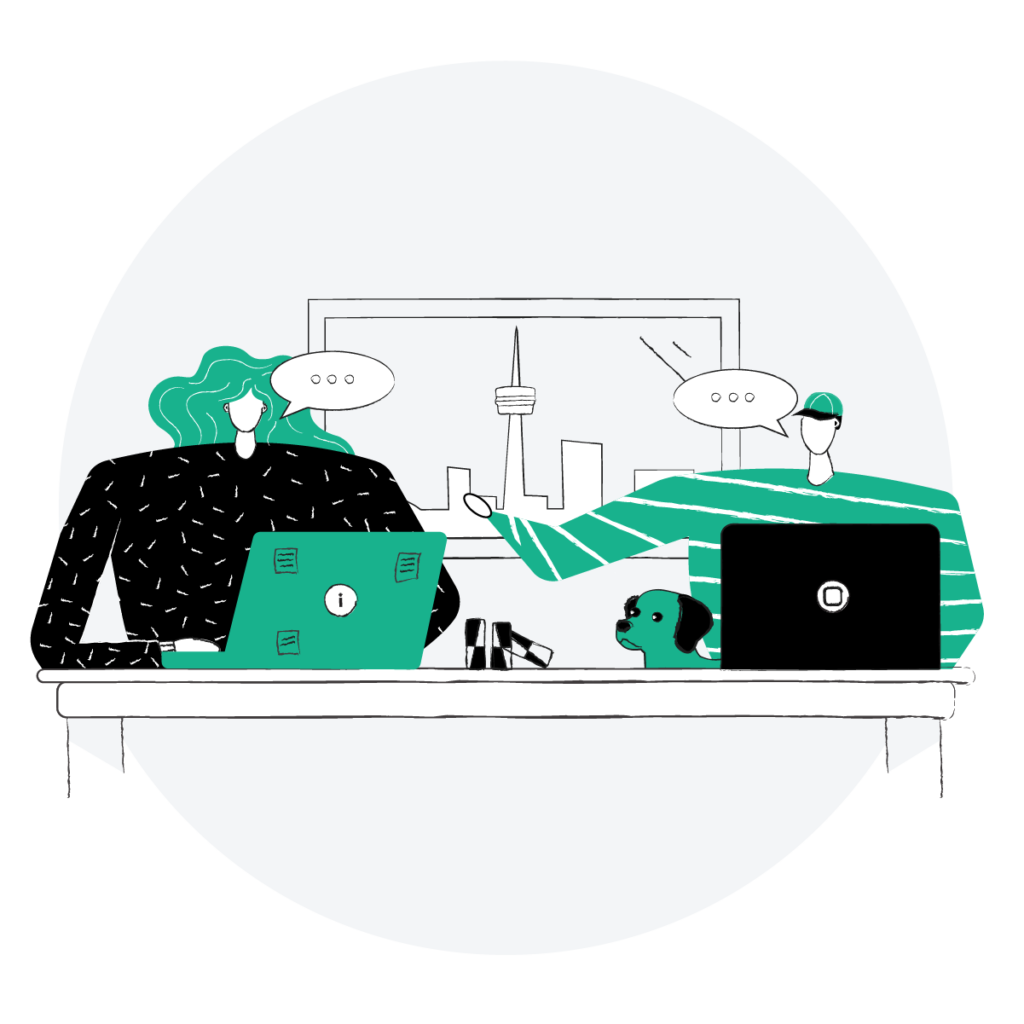 How it all Started
Since 2009 Iversoft had been a mobile-first technology leader. From building the first Solitaire game available on iOS to mobile apps for superstars like Michael Bublé and Billy Talent to some of the first digital tradeshow kiosks for Audi to now – we have always been a mobile-first technology leader.
Today, Iversoft focuses on partnering with organizations to solve the most daunting business and customer engagement challenges with data-driven strategy and cutting-edge technology. Modern businesses can reach clients, excite customers, offer services and grow their business faster than ever, from anywhere – but only if their technology and infrastructure are built to support it. Iversoft is the partner of choice for companies that want to streamline, mobilize and grow their business.
Historical Highlights
NOV
2008
Vicki Iverson starts a freelance hustle in iPhone app development.
SEP
2009
Vicki Iverson and Matt Strentse partner to officially found Iversoft, a mobile development agency, in their Toronto dining room.
NOV
2009
The first Iversoft Solitaire game launches in the App Store.
MAR
2010
Iversoft incorporates.
JUL
2010
Iversoft moves to Ottawa.
SEP
2010
Vicki Iverson and Matt Strentse hire their first employee.
NOV
2010
Iversoft signs its first large client: Torstar Digital
NOV
2011
Iversoft grows out of the dining room and into their first office space.
JAN
2016
Graeme Barlow joins as Chief Marketing Officer with a focus on improving processes and building the team.
MAR
2016
Iversoft expands from a mobile agency to a software development company, offering new services like website development.
AUG
2016
Iversoft hires Steph Barlow as Director of People and Culture to find new talent and foster the company culture. Steph recognizes that Iversoft's value is its people and grows the team by 60% over the year.
SEP
2016
Laura Townson joins as Studio Director to shape operations in the production department.
JAN
2017
Iversoft acquires Jelly Smeared Games.
AUG
2017
Iversoft acquires ReSoMe.
DEC
2017
Iversoft is awarded Ottawa Business Journal's Employee Choice Award and named one of the best places to work in Ottawa.
NOV
2019
Vicki Iverson is awarded CTO of the year in recognition of her technological transformation of the company.
NOV
2019
Matthew Strentse shifts from COO to Chief Relationship Officer.
JUN
2020
Iversoft announces optional four-day compressed workweeks to provide employees with more flexibility.
JUN
2020
Iversoft officially goes remote.
JUN
2020
Iversoft offices open in Toronto, Montreal, Calgary, & Vancouver.
JUN
2020
Iversoft partners with MBM, Canada's leading IP firm, to expand coast to coast and bring an incredible IP Partner to the table for our clients and projects.
MAR
2021
Iversoft is awarded Hire Immigrants Ottawa's Employer Excellence Award.
What Defines Us
1.

Transparency

Many companies claim to be transparent — it's easy to say. But you can just keep reading our website to see that we live it. Between our Services page and FAQ, we've tried to anticipate your questions and provide straightforward answers.

We do this because we want to help you find the right solution, whether or not it's us. If you get in touch, we'll even let you know if we think your problem can be solved without going custom. But if you do work with us, you can be sure you'll always get our honest answers, not what we think you want to hear.

2.

Integrity

In competitive industries like development, your reputation is everything. We've stayed in business for so many years because we deliver on our promises.

But, we don't pretend to be perfect. Even with a brilliant team like ours, no one can predict every possible outcome. If surprises happen, we don't hide it. We immediately let you know exactly what's happening so we can work together to respond quickly. We believe in doing the right thing, especially when it isn't the easy thing.

3.

Passion

The best products are created by people who get excited about innovation and care about what they do. We bring this passion to your projects in a few different ways.

First, we hire smart, creative people and give them the space to contribute their ideas. We firmly believe that a good idea can come from anywhere.

Second, we take on complex projects that push the boundaries of what's possible. We don't repackage old solutions — we build cutting-edge digital products.

Finally, we partner with other passionate people we trust to deliver unique, more comprehensive services.

4.

Excellence

"Good enough" isn't in our vocabulary. We've meticulously designed our processes around research and strategy, enabling us to make informed, data-driven decisions.

Spending time on research upfront also saves us time in the long-run. Instead of wasting precious time on trial and error, we simply execute on a well thought out plan. By the time we start coding, we completely understand your problem, your company, your design preferences, and most importantly, the opportunities we can take advantage of to make your project stand out.
Meet the Team
Our team is our biggest asset. We're lucky to work with smart people who bring their expertise, passion, creativity, and kindness to every project.
Want to work with a team like that?
Join Us
Meet the Team
Our team is our biggest asset. We're lucky to work with smart people who bring their expertise, passion, creativity, and kindness to every project.
Want to work with a team like that?
Join Us